Taking the first step in designing your brand new eLearning course can feel overwhelming. Where do you get started? How do you develop an eLearning course from scratch? Creating a learner journey that is meaningful and engaging requires work. That's where a design framework can be incredibly useful to streamlining the course development process.
What is a design framework?
A design framework is a visual structure that organises the process from course creation through to delivery. It is a roadmap that details exactly how you will build your eLearning course to give your learner an engaging experience and a positive outcome.
Typically, an eLearning design framework is based off five phases: analysis, design, development, implementation, and evaluation. This is sometimes known as ADDIE for short.
At eWorks, we take a learner-centred approach to our holistic eLearning course development. This is sometimes known as a "backward design" because it thinks of the learner first. The learners needs, motivations, experiences, challenges and the desired outcome we want the learner to get out of our eLearning course. We bring this approach into our tried and tested eWorks learning design framework (more on that later).

The course design cycle
Building eLearning courses requires a few steps. Broadly the course design cycle can be broken into the five phases we've mentioned.
Analysis: Where you look at the needs of the organisation, the needs of the learners, the technical requirements, the learning requirements and of course the content needed. This is also the stage to conduct a needs-based analysis to ask how valuable will this training be?
Design: The next phase of establishing both learning objectives and an instructional design plan.
Development: After your deep analysis and design phases, it's time to storyboard what the eLearning will look like and begin bringing your design plans to life.
Implementation: After successfully developing an eLearning course it's time to use a Learning Management System like the eWorks LMS to host and deliver your training.
Evaluation: Offers an opportunity to review, refine and examine the data to make continuous improvement to your content. You should be able to measure the success of the course content based on your work.
The ADDIE model offers a flexible framework to get your courses up and running efficiently, which is ideal for organisations that have evolving training and learning needs for their employees.
Choose a Learning Design Framework that's tried and tested
Since 1998, eWorks has been creating custom eLearning courses for clients globally. As an experienced partner, we have refined our learning design process to maximise both the learning experience and usefulness of your eLearning content.
We work closely with you each step of the way to deliver end-to-end eLearning course development. You can see how our process works on the diagram below.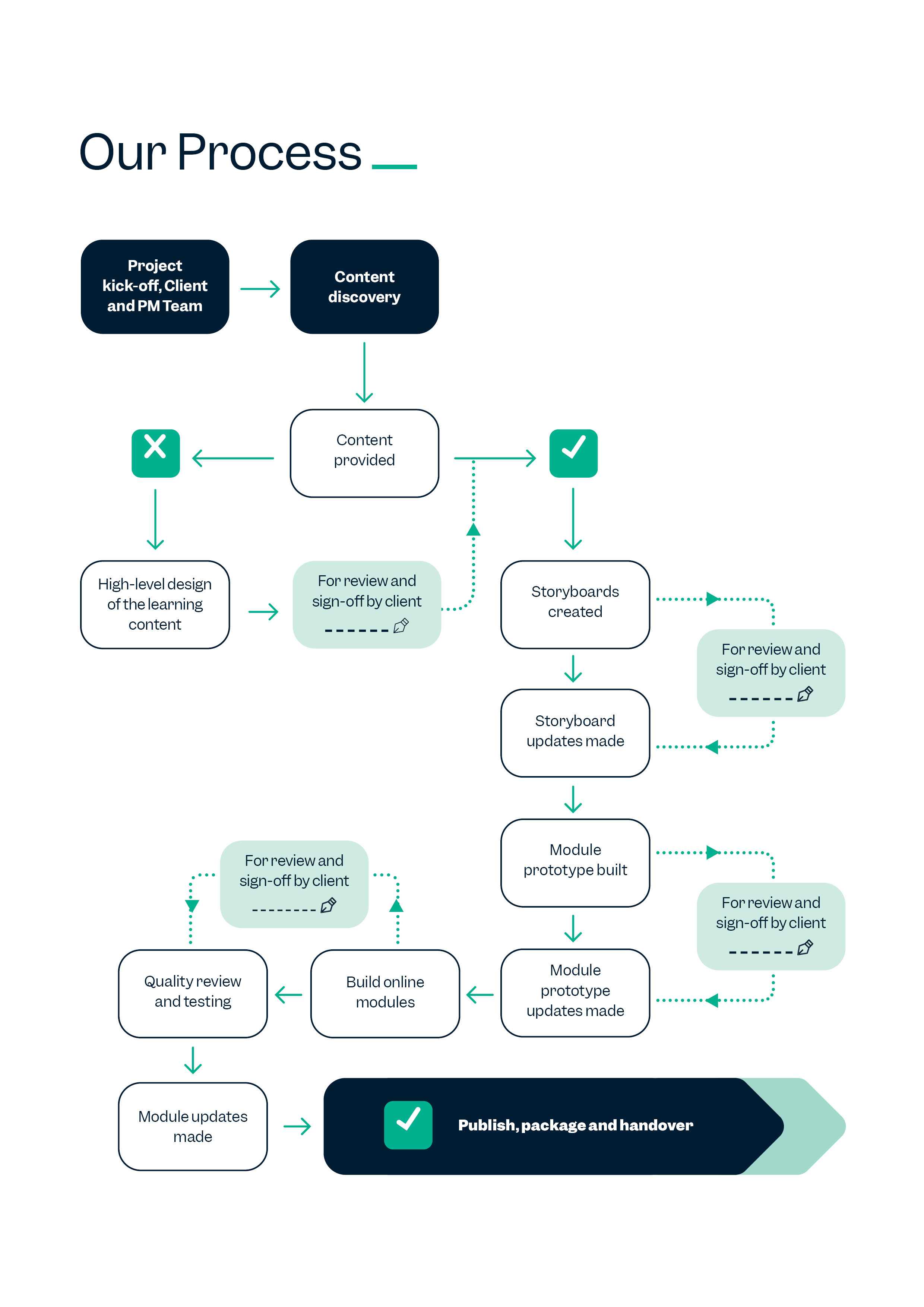 How a design framework brings big benefits
A design framework gives you a plan to stick to throughout the eLearning course development process. It's easy to get side tracked through a big project like building eLearning courses, a design framework keeps you focused on achieving your main objective: a positive outcome for the learner.
This approach benefits both the learners and their organisations as it ensures that everything you do in your approach to creating new eLearning content keeps the end user at the centre. It can lead you to ask key questions like: how will this benefit the learner? Or how will this help improve training compliance for the organisation?
A strong design framework makes the eLearning experience more engaging for learners, ultimately creating better outcomes for learners and organisations.
Design framework supports clients
The eWorks design framework process supports our clients to achieve their business objectives and achieve a strong return on investment.
As a continuing professional development organisation for healthcare professionals, nurses and healthcare workers, Age Concern needed a virtual learning solution to decrease costly face-to-face training.
eWorks developed a tailored LMS for Age Concern so that students could easily learn when it suited them. This change resulted in higher attendance rates and an ability to reach regional and remote learners whilst drastically reducing the costs to both Age Concern and their clients.
As Prue Mellor from Age Concern put it "Engaging with eWorks provided us a complete solution."
Similarly, AFL SportsReady engaged eWorks to support them in delivering eLearning content. The result was automating processes that has helped decrease admin and course deliver costs, enabling them to offer more courses, better engage course participants and has actually increased business revenue.
Want to learn more about how we can create the right eLearning course development for your organisation? Get in touch today